Applying for an eVisa to visit India can sometimes feel like a complicated process, especially for first-timers. The waiting period after submission can be nerve-racking, filled with anticipation and anxiety. But you don't have to stay in the dark. The Indian government has made it quite simple for you to check the status of your India eVisa application online. Here's a step-by-step guide to help you do just that.
What is an eVisa?
Before we delve into the process of checking your eVisa status, it's important to first understand what an eVisa is. An eVisa, or electronic visa, is a digital tourist visa that allows international travelers to enter and travel within India. It's less cumbersome to acquire than the traditional visa because the process is entirely online, no need for a visit to the consulate or the embassy.
How to Apply for an eVisa
The application process for an eVisa is straightforward:
Visit the Indian eVisa website

Fill out the online

India eVisa application form

with all the required information.

Upload a scanned copy of your passport and a recent passport-sized photograph.

After successful submission,

you'll receive an Application ID.

Keep this safe as you'll need it to track your eVisa status.

Pay the visa fee online using a credit or debit card.
How do you check your India visa status without the application ID?
The Application ID is a unique identifier that ties your application to you and your passport. Without it, it's impossible to verify your identity and retrieve your application information from the database.
Here are a few steps you should take if you've lost or forgotten your Application ID:
1. Check Your Email Inbox and Spam Folder
First and foremost, check your email inbox and spam folder. The confirmation email containing your Application ID could have been directed to the spam folder by your email service.
2. Verify Your Bank Statement
If you cannot locate the confirmation email, the next step is to check your bank statement or credit card transactions. Confirm if the charge for the eVisa application was debited from your account. If the fee has been charged, it's an indication that the application was successfully submitted.
3. Contact the eVisa Support Centre
If the charge was made but you still don't have the Application ID, reach out to the eVisa Support Centre. The contact details should be available on the official Indian eVisa website. Be prepared to provide details like your passport number, full name, date of birth, and the date you applied. They should be able to assist in retrieving your Application ID.
4. Reapply If Necessary
However, if no charges were made to your account, it's likely that your application did not go through. In this case, you may need to reapply for the eVisa.
To avoid such issues in the future, it's recommended to take a screenshot or note down your Application ID immediately after application submission. This critical information is necessary to track the status of your application, and losing it could lead to unnecessary delays.
How do you check your India visa status?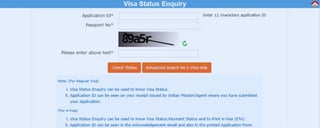 Step 1: Visit the Official eVisa Website
Firstly, open the Indian eVisa website
Step 2: Navigate to 'Visa Status'
On the homepage, you'll find a menu at the top of the page. Click on the option that says 'India Visa Status'.
Step 3: Enter Your Application ID and Passport Number
You'll be redirected to a new page where you're required to input your Application ID and Passport Number. Enter these details in the respective fields.
Step 4: Click on 'Check Status'
Once you've input your Application ID and Passport Number, click on the 'Check Status' button.
Step 5: View Your eVisa Status
Your eVisa status will be displayed on the screen. The status could read 'Under Process', 'Granted' or 'Rejected'. If your application is still 'Under Process', you'll need to check back after a few days.
What to Do After Your eVisa is Granted?
After your eVisa is granted, it's recommended to print a copy of the eVisa and keep it with your travel documents. Although it's an electronic visa, having a physical copy can be helpful in case of any unforeseen issues with digital systems.
Once your visa is successfully processed, it's planning time!
Absolutely! Your eVisa approval marks the start of an exciting journey to the magical land of India. This country, rich in history, culture, and heritage, offers a plethora of experiences that are sure to leave you spellbound. One such marvel is the Taj Mahal, an iconic symbol of India's rich history.
A Date with the Taj Mahal
Your Indian itinerary would indeed be incomplete without a visit to the Taj Mahal, a UNESCO World Heritage Site and one of the Seven Wonders of the World. Built by Mughal emperor Shah Jahan in memory of his beloved wife Mumtaz Mahal, the Taj Mahal epitomizes the grandeur of Mughal architecture and the tale of timeless love that it was built upon.
As you explore this magnificent monument, pay close attention to the intricate floral designs, geometric patterns, and Quranic inscriptions that adorn its white marble surface. The central tomb, encased by four towering minarets, houses the cenotaphs of Shah Jahan and Mumtaz Mahal, a testament to their eternal love.
Meandering Through Majestic Gardens
Surrounding the Taj Mahal are expansive Mughal gardens. These beautifully manicured gardens, partitioned into 16 flowerbeds, are a delight to stroll through. The gardens not only add to the beauty of the Taj but also provide a tranquil space for visitors to relax and soak in the enchanting view of the mausoleum.
Don't forget to capture a picture of the Taj Mahal reflected in the ornamental pools in the garden - a classic shot that perfectly encapsulates the beauty of this place.
Making the Most of Your Visit
The Taj Mahal is captivating at any time of the day, but it is particularly breathtaking at sunrise and sunset when the marble façade changes color, mirroring the hues of the sky. You could also plan to visit during a full moon night, when the Taj Mahal seems to glow, providing a surreal experience.
Indeed, a visit to the Taj Mahal will be one of the highlights of your trip to India, a memory to cherish forever. Enjoy every moment of this mesmerizing journey into history, culture, and architectural grandeur!